When I think of spring, I think of spawning bass. As the temperature rises, so do the bass. They head out of their deep wintering holes to move into their natural spawning areas. The key trigger for the spawn is the water temperature.
In my area, I start to keep an eye on this aspect of fishing toward the end of March. The spawn may be the best time of year to catch your personal best bass to date. To be able to do this successfully, you need to understand the spawn and its three stages. Here, I will break down all three stages—the pre-spawn, spawn, and post-spawn periods. I'll go over the best baits to use, the locations to find fish, and their presentations. Hopefully, this will land you the bass of your dreams.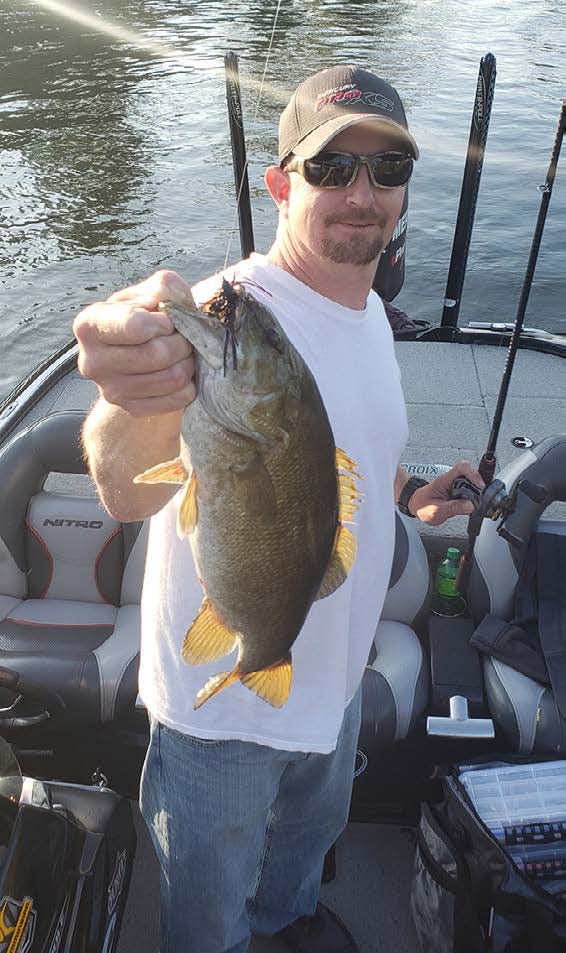 Pre-Spawn
Let's start with the pre-spawn period. This is the time when the bass move from their wintering locations in search of spawning areas. This function usually starts to occur when water temperatures reach around 45˚F.
First, let's review where to find bass, and what they will be doing at this stage of the spawn. As they search out spawning areas, they will feed heavily. They need to feed heavily because once they form a nest, they won't feed again for around 10 days. In my area, there is a big shad die-off, providing the bulk of what they feed on.
This can be one of the best times to catch lots of bass because they move frequently in search of nest locations. It can also be the best time to catch your personal best record, because the females are full of eggs. Locations where I like to look for them are the secondary points leading back into creeks and inlets on a main lake, or rip rap, and any form of structure on an inland reservoir. The northern banks warm up the fastest, so this is where I start.
Bass are moving fast during this time, so I like to use fast baits. Here are a few of my preferred setups for the pre-spawn period.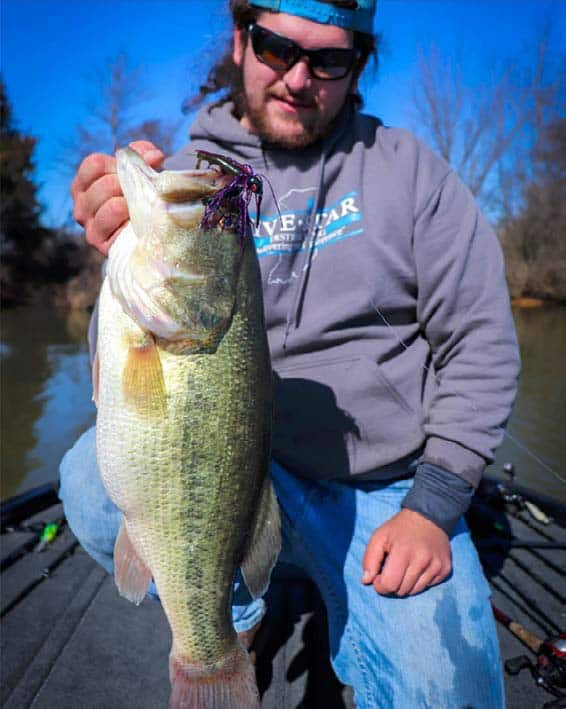 Crankbaits lipless or diving. Both can be highly effective. I prefer crawdad-type patterns when I throw a crankbait. The rod I prefer to throw on is designed just for crankbaits. It's a SixGill 7-foot 4-inch medium heavy Kranken rod. I like to pair this with a SixGill Hamarr series 7.0.1 gear ratio.
I prefer a Strike King red eye shad. There are several different color patterns and sizes available for this bait. You should be able to match your local hatch, and if needed, use a diving crankbait to get as deep as you need. Move these baits fast and cover as much area as you can.
Blade baits. These can be another highly effective bait to throw this time of year. The fast and tight presentation of a blade bait mimics a lot of baitfish. Since bass are feeding heavily, I have caught a lot of them with this bait, covering as much area as I can. I throw these on the same setup as above.
The 9k Elite Lures ½ ounce spinner bait, handmade in Goshen, Indiana, can be another highly effective bait to throw. They come in several patterns. I prefer the black crappie pattern for fishing in my area. I throw this on a SixGill 7-foot medium heavy Myakka rod, paired with a SixGill Crius 6.3.1 gear ratio. I like to throw these more around rip rap and on inland reservoirs without a lot of structure. They are highly effective anywhere, though.
Lastly, I will throw a jerk bait. I throw these the same as I do crankbaits and blade baits. I throw them on a St. Croix 6-foot-10 medium light Mojo bass rod, with an Abu Garcia Revo X spinning reel. There are several baits to choose from, and I like the Spro brand, but they can be expensive. I have had just as much luck with Strike King and Berkley. I fish these shallow, around inlets, like creeks. In my area, they mimic the shad die-off. These can be highly effective if you see shad floating on the surface.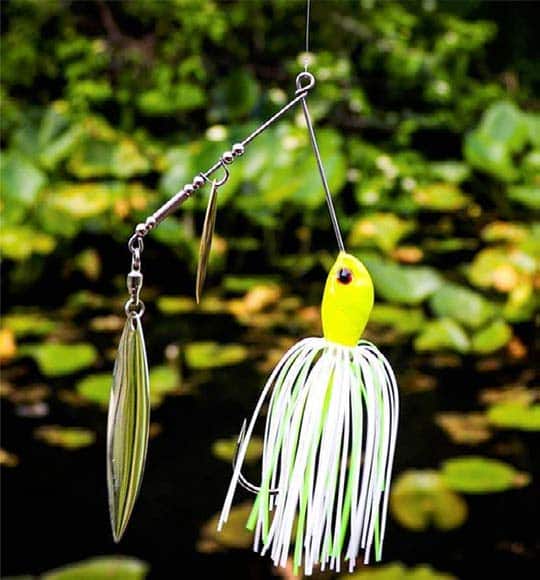 The Spawn
The time when females move to the flats to lay eggs is referred to as the spawn. This occurs when the water temperature gets to around 60˚F. The females clear out an area for their eggs and then lay them. The male protects the female and the eggs until they hatch. He will fight off anything that gets near the eggs.
This is the time to target the shallow water. You can usually sight-fish bass off the beds. Keeping your boat 25 feet or more away from the bank is the best strategy, so as to not harm the beds.
This phase lasts about three weeks. It can be hard to fish because you will be able to see the females, but mostly, they'll be acting lethargic. If you pester them enough, you can get a bite. Below is a list of baits I like to throw to catch bass during this phase.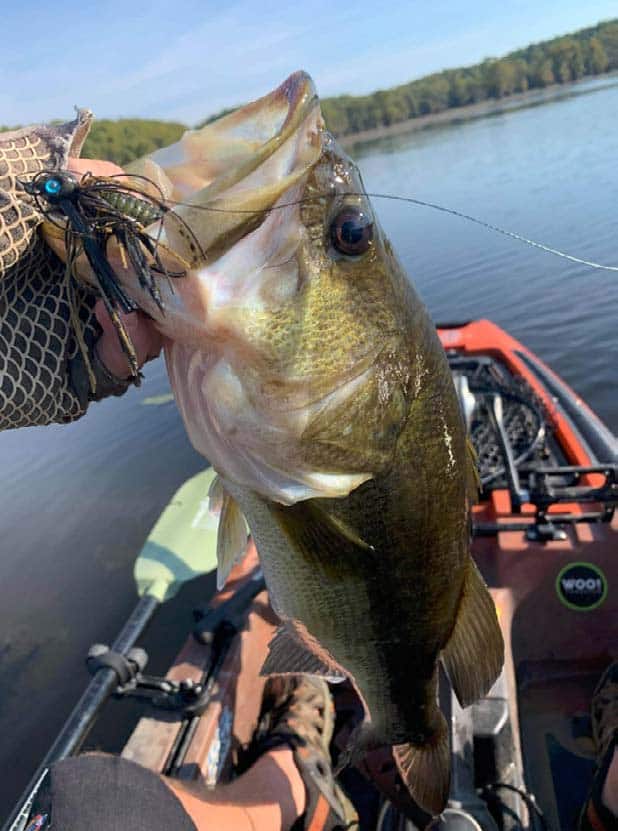 The first bait I like to throw is a 9k Elite Lures swim jig. This is the perfect bait for finding the males that are protecting the bed. I cast to the shore and work in back to the boat, watching for a trailing fish. On the bank, I like to cast parallel to the bank and work back. I use a SixGill 7-foot medium heavy Myakka rod, paired with a SixGill Crius 6.3.1 gear ratio.
The bait I like to throw is some sort of frog bait. I can cast over the bed and work it back to me. This method can be highly effective, especially in working it slowly over the beds. It can provide what it takes to get that reaction bite. I like to use at least a 7-foot rod. I prefer my frog rod to be heavy power, because that makes it easier to pull the fish out of thick cover. I pair that with a fast reel, at least a 7.0.0. This helps me get the bait back fast to cast out again.
The last bait I use for this phase is a soft worm. They are very versatile baits. You can wacky-rig them, Texas-rig them, or even rig them weightless. This is probably the most versatile bait that exists. I use them the same way as the swim jig, working them past the beds to try to get the fish to react bite. For soft plastics, I like to use the SixGill Myakka 7-foot medium heavy rod, paired with a SixGill Banshee 2000 series reel. As far as soft plastics go, I use products from two local companies, Rod Bender Baits and LBABaits. Both are custom-made and affordable. There are several other options, though.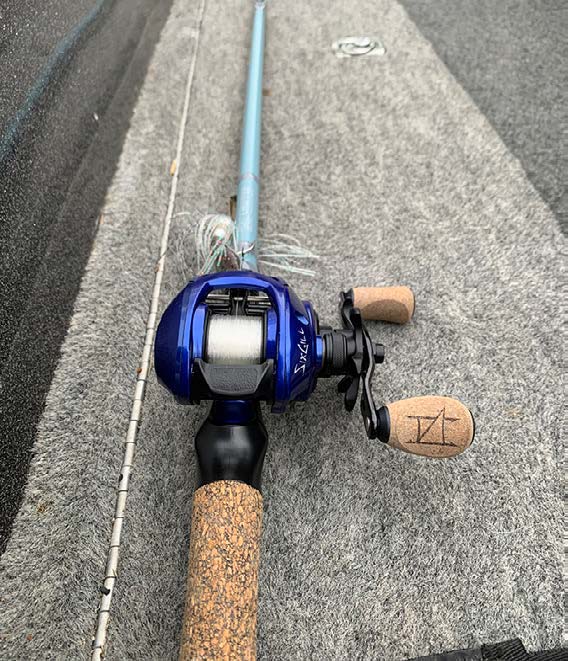 Post-Spawn
The last stage of the spawn is the post-spawn period. This is when bass recuperate from the spawn. Males will stick around to protect the young until the young mature enough to fend for themselves. The females will still be somewhat lethargic, due to the stress of the spawn they've experienced. The females will hang out in shallow areas around the beds. This can be another great time to catch in numbers, but these fish may not be that big, due to the stress they've been through. After a few weeks, they clear out, looking for better locations to live out the summer.
For the post-spawn period, I use two different techniques. Offshore, in deeper water, is where I locate them if they cleared off the beds. I like to work the weed lines before moving farther out though, just in case.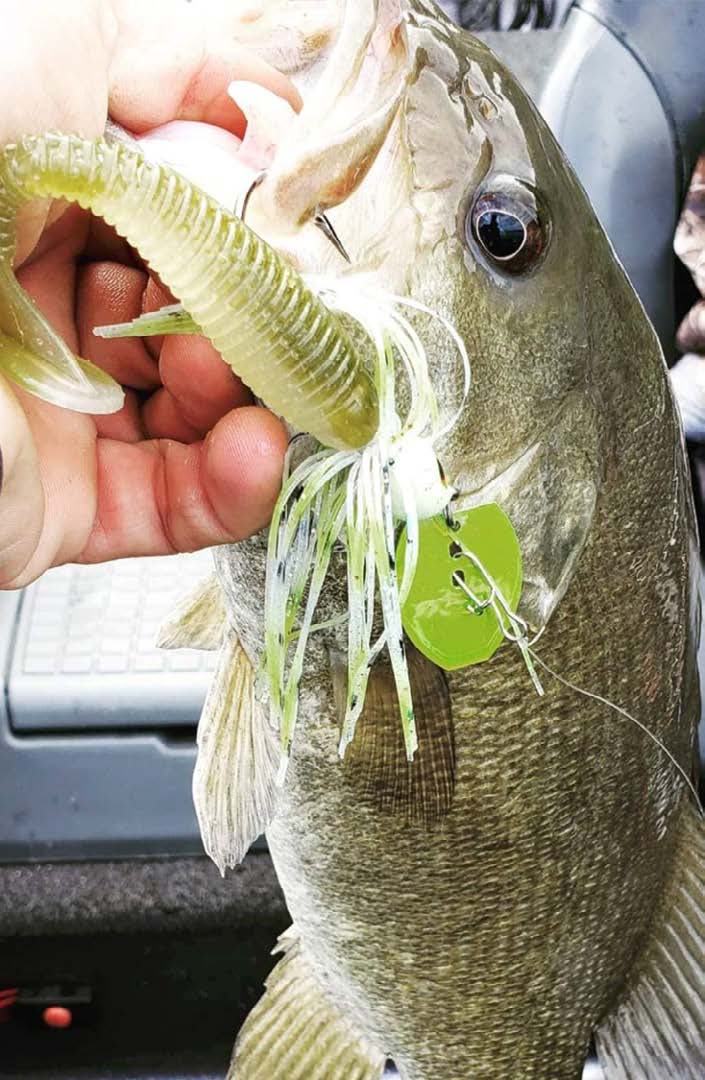 The first bait I use for the post-spawn is one of my favorites, the 9k Elite Lures chatterbug in green pumpkin. This is a great year-round bait, but it excels post-spawn for swimming around weed lines and through brush. With the right trailer, these look just like a bluegill. I like to throw this on the SixGill Chopper series 7-foot-2 medium heavy rod. I like to pair it with the SixGill Hamarr series 6.5.1 gear ratio. I always have this setup on the boat; it's my go-to year-round.
The next bait I like to throw is a 9k Elite Lures Football jig in heavy cover. My favorite color is the money bug. I throw them on a SixGill Fenrir series 7-foot-2 medium heavy rod, with a SixGill Hamarr series 7.0.1 gear ratio. I use this setup starting close to shore, then work my way out, pitching it over heavy cover and brush. It's a great bait for a reaction strike.
The last bait I like to use this phase of the spawn is a deep-diving crankbait. These get to the strike zone fast to get to bass that have moved out of spawn mode. I throw these on the same setup as I do regular crankbaits. The only difference is that if I am cranking lower than 20 feet, I prefer a heavy-action rod.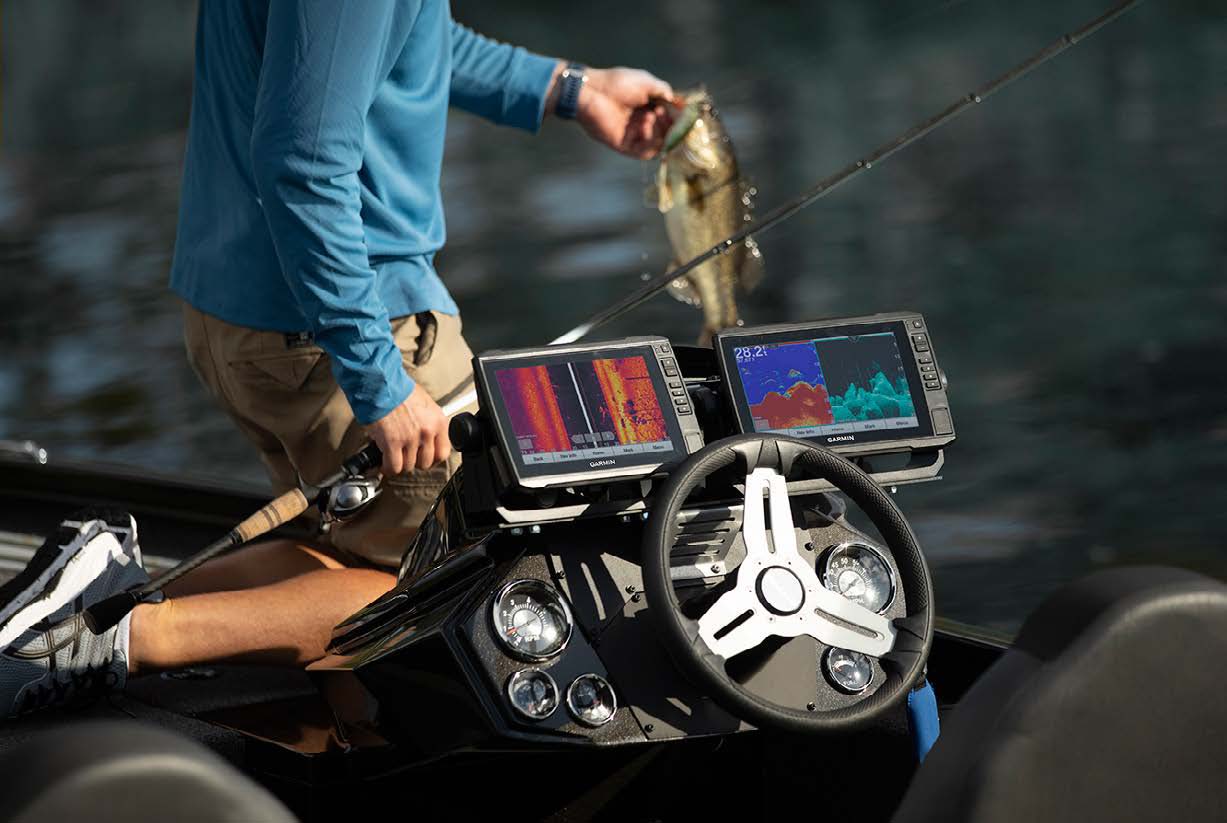 Fishfinder + Trolling Motor
A few other things that can really help during the spawn is a good fish finder and a trolling motor.
There are several great companies offering models to choose: Hummingbird, Garmin, and Lowrance. I personally use Garmin. I love the fact that their force-trolling motor has both a remote and a wireless foot pedal. Those factors allow me to run the boat from anywhere.
Spot lock is also very a beneficial aspect for fishing the spawn. It allows you to lock into an area to make the same cast over and over, if needed. It's money well spent, in my opinion. As far as graphs, I have used both Hummingbird and Garmin. As long as the graph has side and down imaging, you can learn how to use it, and that can be a game changer. Right now, I'm using the Garmin 94sv, because it links up with my trolling motor.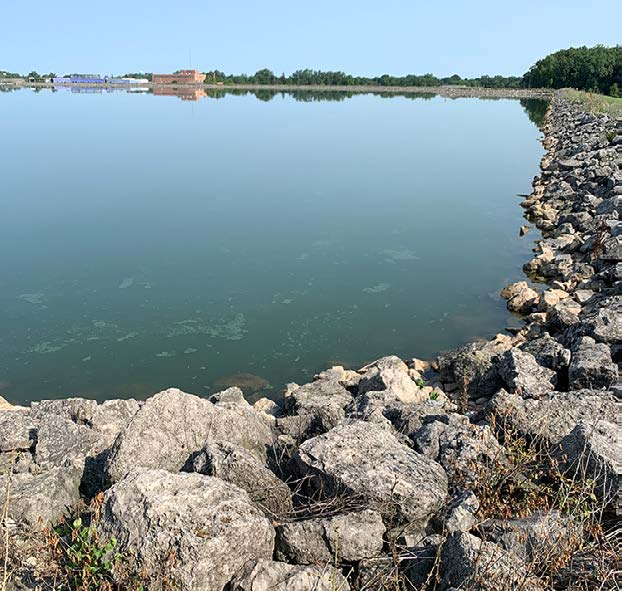 Another important thing to have is a net, so you don't hurt the bass as you boat them, especially if they are full of eggs.
Spawning bass can be affected by many things, including the phase of the moon, water temperature, and pressure. But there's one thing for sure: they are predictable. You can almost pattern them year after year in lakes once you know where they like to spawn. It's a great way to get the fishing season started. And who knows? You may just get the catch of a lifetime.