Choosing hunting boots can be a challenge, especially if you're pressed for time. After all, there are many factors to consider before lacing up a pair of boots, whether it's for a hunt through rugged terrain or a spring turkey hunt in a field. We're here to help you narrow down the possibilities with recommendations for boots suited to various purposes. Each has been put to the test in the field. Consider this your one-stop guide for picking out your next pair of hunting boots.
Vaprtrek boots with a height of eight inches are offered by Irish Setter Boots in both men's and women's sizes. After years of using both men's and women's Vaprtreks, I can safely say they're equally comfortable, durable and useful. These boots have 400-gram Primaloft insulation to help keep feet warm—but not too warm. They are made using full-grain leather and ArmaTec XT, an abrasion-resistant, tough material. The boots have a Mossy Oak Break Up Country camouflage exterior to reduce the risk of game animals catching glimpses of movement.
These are the boots to get when you want durable yet fairly lightweight boots for spring or fall hunts. They have an exceptionally long life, even for those of us who hunt heavily. I've been so impressed by these boots that I now have a pair in each truck, in the mud room and on my boot rack. They are that versatile and dependable.
This boot style provides a bit of a "two-fer" because it covers both the 400-gram and 1000-gram Thinsulate boots. There's simply no better boot for truly cold weather or challenging mountain hunts than the Kenetrek Mountain Extremes. These boots are more rigid than lighter-weight boots that are meant for less strenuous hunts. Their rigidity and impressive toughness is very useful when you're chasing predators or mountain goats. The 400-gram boot is, of course, a bit lighter and not as toasty as the 1000-gram version. However, each has its purpose depending on the temperatures you're facing.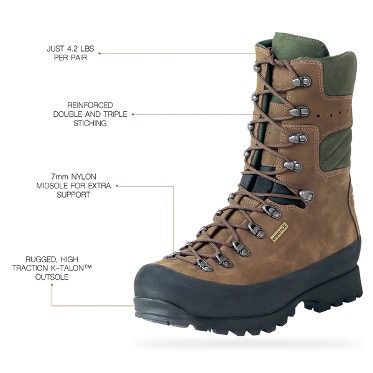 When you pair the Mountain Extreme with Kenetrek's Ultimate Liner Lightweight Over-the-Calf Sock, (with or without a heavier boot sock over it), you have the perfect combination for difficult winter hunts. Features of the Kenetrek Mountain Extreme include 10-inch uppers with a one-piece vamp construction tongue. That means there aren't openings where water or snow can get in. They have double- and even triple-stitching at high-stress points and K-Talon outsoles. Yes, these are heavier boots on your feet than some others, but they are well worth that facet when you're braving snow and ice. While others in your hunt team are suffering, your feet will be doing great. These boots are made in Italy and they last for quite some time.
Snake boots are more of an issue in the southern part of the country, but these boots prove useful anywhere across the nation.
The Rocky Prolight Hunting Waterproof Snake Boot is designed for unisex wear. It spans sizes from 4 to 15, medium or wide. (You need to read the size chart to determine men's sizes, because that's how Rocky sizes these boots). These boots have 16-inch uppers. Unlike some snake boots, they're made in  lace-up style, which is nice if you prefer to keep your boots secure and keep out more than just snakes.
Mine have served me well in numerous states and have proven to be the correct height for blocking any snakes that are froggy enough to try striking as you walk by. (The worst you might feel from that is a quick bump as they bounce off the boot.) This aspect is especially useful in Texas, where seeing venomous snakes is never a surprise and is always expected. So, when it's prime snake time, you want these boots.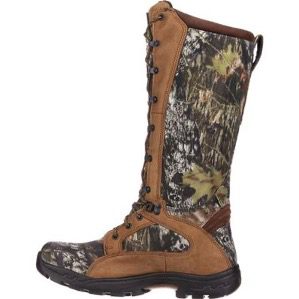 These boots utilize Rocky's waterproof system. It's one that remains breathable, so the boots are able to resist mud and rain, keeping your feet dry. They're constructed from full-grain leather and nylon, and they have a polyurethane and rubber outsole. With a total weight of about 1.5 pounds, they're really not excessively bulky, especially when you consider their height. These aren't awkward or uncomfortable snake boots, either. Do your legs get hot with these? I'd say yes, but not ridiculously so, and that is a small price to pay for protection from our fanged friends. Rocky gives these boots a Mossy Oak Break Up camo outer layer to help them blend in and uses tan leather over the stress points.
The Danner Pronghorn boot is produced in men's sizes, but I've found that the sizing works just fine for women, too. That's not something you can say about all boots, since women do tend to have narrower feet.
These boots are considered the foundation of the company's hunting boot line-up. They are now in their fifth iteration, which is impressive. Danner Pronghorns are made to keep you comfortable and stable during your hunt—both important elements. These boots are great for deer hunts and any hunt that involves light to moderate hiking. Their 400-gram boots with a GORE-TEX waterproof liner.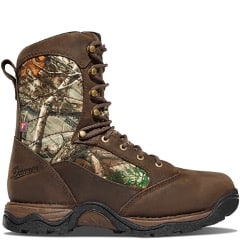 Their eight-inch, full-grain leather upper is resistant to wear and also delivers fantastic longevity. The 400-gram PrimaLoft insulation helps keep your feet from getting excessively cold without being too much for warmer weather. These boots also have a Realtree Edge camo pattern, so the colors are great for most terrain. A Vibram midsole cushions feet during the hiking portion of hunts and a TERRA FORCE NEXT platform gives users solid arch support. Danner Pronghorns are excellent boots for hunts, whether you're chasing feral hogs, whitetail deer, or turkeys. These are the kind of boots that will have you wanting to buy multiple pairs (believe me).
It's a tossup whether to list the massive benefits of Lacrosse's muck boots or focus on the AlphaTerra, because this is a company that produces some wonderful mud boots.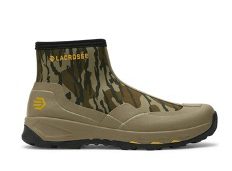 We're focusing on the AlphaTerra because these are the ankle-height boots that should literally live in your truck or by the back door. Who among us hasn't decided to go on a hunt at the last minute, or forgotten their favorite hunting boots at home? Lacrosse AlphaTerras come in men's and women's sizes. The women's version is currently only offered in black and white. If you're a woman who wants camo or boots that don't have high-visibility strips of white, you may want to stick to men's sizes.
The Mossy Oak Bottomland-patterned AlphaTerra has a six-inch height. It's a one-piece, pull-on boot with no laces or buckles, although it does have a zipper closure on the side. They're made from rubber and insulated neoprene with an EVA midsole. They offer stellar water protection (as long as you remember their shorter height). These boots also make wonderful transition boots between a muddy field and home, or from a hunt to your kid's soccer practice. They're comfortable enough to wear just about anywhere and they are also a lot easier to clean than many other boots. For those of us who have a tendency to wear hunting boots more often than not, the Lacrosse AlphaTerra is a nice option that doesn't quite scream, "I'd rather be in the woods," and manages to look and serve as a functional, useful shorter boot.