The Fall season is here and deer season is upon us. For this top 10 outdoor gear list we researched quality products that are highly rated, made by reputable outdoor brands, and are new to the market. We looked for a variety of products needed in the field for hunting and the outdoors including, broadheads, outerwear, cameras, tactical, and more.
The best value for folks looking to purchase hunting, fishing, and outdoor gear is with our Premium Membership. For your convenience, we researched prices for these new products so you can see firsthand how much OSMG Premium can save you on gear!
What separates us from other discount sites?  Our discounts are site-wide and brand new for 2022.  This means you don't save on gear nobody wants, you save on gear everybody wants. With site-wide discounts to over 50+ brands and promo codes, finding a great deal you love is easy!
Here are the top 10 hunting gear picks we love going into the Fall:
ScentLok Savanna Aero Crosshair Jacket
Engineered and manufactured to handle the unique challenges of the early bow hunting season, the ScentLok Savanna Aero Crosshair Jacket is designed for scent control, comfort, utility, and concealment. Carefully chosen, lightweight fabrics with built-in moisture-wicking prevent overheating while keeping hunters cool and dry. Get closer with proven-effective Carbon Alloy Technology, yielding peak odor absorption with additional antimicrobial treatment for odor prevention.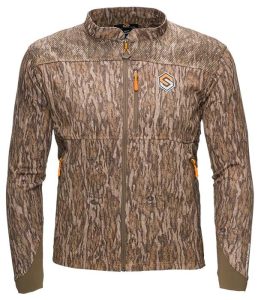 The Savanna Aero Crosshair Jacket is available in multiple camo options and concealment choices for any terrain or environment, while a stealthy no-sheen fabric further reduces visibility. Maximum utility comes from a concealed safety harness opening, a highly functional three-pocket design, and tapered spandex cuffs. It is a premium choice for any warm weather hunt.
Product Specifications:
Antimicrobial treatment for maximum odor prevention.
Carbon Alloy™ technology for maximum odor adsorption & scent control
No sheen fabric for reduced visibility.
Lightweight fabric prevents overheating.
Tapered spandex cuff keeps the sleeve securely in place to contain odors and away from the bowstring
Bowstrings opening allows Carbon AlloyTM to control odors on the harness.
Moisture wicking keeps you cool & dry.
Three-pocket design for ample storage and quick accessibility.
Six camo options offer concealment choices for any terrain.
ScentLok Savannah Aero Crosshair Jacket
Best Internet Price $129.99

Our Price: $97.50
You Save: $32.50
FieldTorq Pakkawood Knife Kit

FieldTorq knives easily cut hide, flesh, and even bone, but never the user or internal organs of the big game animal. They are made of High Carbon Stainless Steel to hold a keen edge for many uses before sharpening is required. The FieldTorq Pakkawood is comparable to laminated gun stocks and is non-slip in wet environments & conditions. The handle finish is real wood and pinned which feels and operates like a heavy-duty knife.
An important design feature of the FieldTorq knife is that you never have to worry about breaking a blade. Many of us have broken the blades of our knives while field dressing deer. Environmental factors, thin blades, and twisting or bending while under pressure with bones will easily break the tip of a knife. FieldTorq knives come with a unique blade cover that protects the longer blade tip while the short stout blade cuts through any bone.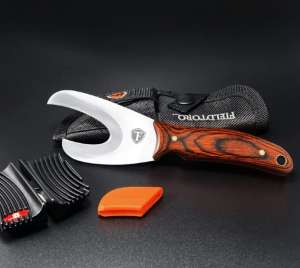 The can opener look is for functionality and makes this knife stand out when it comes to field dressing. You no longer have to use the tip of a knife and pound on it trying to split the pelvic bone. The FieldTorq Pakkawood will split the pelvic bone as well as sternum with reliable can-opener-like action, making it the only big game field dressing tool to do so.
The FieldTorq® Pakkawood field dressing kit includes:
8Cr14MoV High Carbon Stainless Steel (.8% carbon and up to 15 field dressings before sharpening)
Heavy-duty Ballistic Nylon Sheath
Two-Stage Ceramic Sharpener
Torq Assist™ (2020+ 3.8mm)
Instructional Brochure
FieldTorq® Lifetime Warranty
FieldTorq® Cut Above Guarantee
FieldTorq Pakkawood Knife Kit
Best Internet Price $99.99

Our Price: $79.99
You Save: $20
Caldwell's Home Range Premium Shooting Kit
Caldwell's Home Range Premium Shooting Kit provides all the essentials for your home/backyard range time. Shots are sure to be accurate with our Stable Table and our Lead Sled DFT2 and clean-up will be a breeze with the AR Pic Rail Brass Catcher. Whether you're new to shooting or a seasoned pro, Caldwell has made it easy to get up and running in minutes.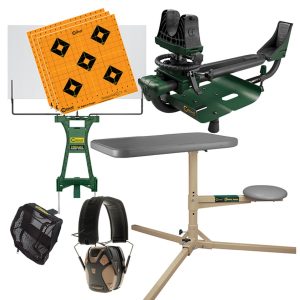 Here are the six products included in the bundle and their features.
The Lead Sled® DFT™ 2 (Dual Frame Technology) provides shooters with the industry's best recoil reduction system and the versatility to fit virtually any shotgun or rifle, all built around a precision shooting platform. A key feature of the DFT 2 is the ability to slide the front cradle 18″ for optimal length adjustment.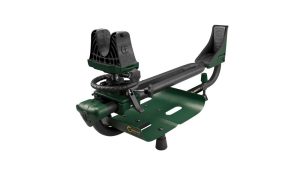 The E-Max Pro high-quality electronic hearing protection from Caldwell delivers style and comfort for all-day use, plus it comes in youth and adult sizes and an array of colors. With a 23dB noise reduction rating and a low profile design, you can stay comfortable and protect your hearing on the range. High-quality stereo sound keeps what you want to hear crystal clear and easy to use push button volume controls allow easy adjustments.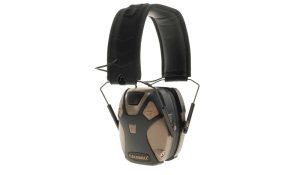 AR Pic Rail Brass Catcher
The Caldwell® AR-15 Pic Rail Brass Catcher mounts to any Pic Rail with its quick detach anodized aluminum clamp and captures the ejected brass during firing. The clamp and wire frame are fully adjustable to work with a wide variety of rail/optic configurations and allow brass to enter bag without any disruption to bolt function or cycling.
Mounts to any ar-15 rifle with a flat top or picatinny rail hand guard.
Compatible with most ar-10/lr-308 models as well.
Convenient zipper at bottom of mesh bag makes emptying simple.
Heat-resistant mesh will not melt.
Large 100-round capacity defined by.223 sized ammo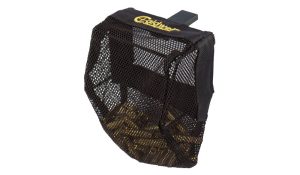 The Caldwell Ultimate Target Stand features an oversized backer to hold multiple large targets (two 16″ targets side by side) and is constructed of an all-weather moisture-resistant material.
Modular frame design collapses to occupy much less space during transport and storage.
Frame arms are constructed of durable steel rod and made of robust thick plastic with integrated ribbing for stiffness.
Build-in storage holds range supplies.

The Caldwell® Stable Table ® is purpose-built to be the finest value-priced shooting bench in the market. The tripod design is more rigid and has fewer joints than folding-style benches and is appropriate for a wide variety of shooting conditions and disciplines.
Highly durable, weatherproof 34″x23″ synthetic table top.
Quick-release pin for easy seat height adjustment.
Tabletop and seat pivoting can be locked.
Perimeter rail keeps ammunition from rolling off the bench top.
Two cleaning forks are included, one for fore-ends and one for buttstocks.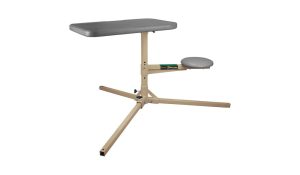 Orange Peel Sight-In Targets let you see hits ON and OFF the target with dual-color flake-off technology that makes your hits look like colorful explosions. If your shot happens to miss the bullseye, you will know exactly where your bullet strayed.
Adhesive-backed to stick to any surface.
A huge array of target options to fit all your shooting season needs.
Hits in the target explode in neon yellow, outside the target, and in the bullseye explode in white for instant target feedback you can see from the bench.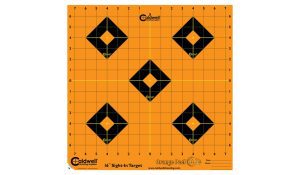 Caldwell Home Range Premium Kit
Best Internet Price: $459.99 

Our Price

: $367.99
You Save: $92
BOG Blood Moon
Designed to solve common game scouting pain points and provide best-in-class imagery, the BOG® Blood Moon™ infrared game camera "bursts" onto the scene in 2020. This dual-sensor game camera has been tabbed by Petersen's Bowhunting as having "Astronomical Imagery." It boasts the patent-pending BOG® Dominion™ removable menu system, featuring a 3" full-color viewing screen with an extremely easy-to-use, icon-based operating system. The Blood Moon™ also features a lightning-fast .04 second trigger speed, 5 capture modes (including 1080 FHD video w/ auto-adjust flash), up to 1-year battery life, 120' flash range, and a large variety of image tag information designed to help you track your deer herd to the precise moment, location, and climatic condition.
This camera is highly rated and reviewed by many customers. They speak to the quality of the imagery and additional features that are very useful.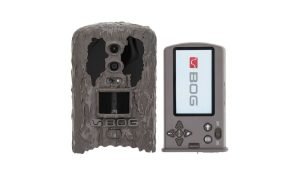 BOG Blood Moon
Best Internet Price: $219.97 

Our Price: $199.99
You Save: $19.98
Ridge Merino's Convict Canyon Merino Wool Hoodie
As seen in Outside Magazine, introducing the new Convict 1/2 Zip Pullover Hoodie constructed with Polartec® Power Wool™. Designed to offer a highly breathable and lightweight mid-layer with back-country travel in mind. The grid construction of the fabric delivers incredible breathability that regulates the start-stop cycle in the backcountry better than anything else we have tried. The air pockets provide the warmth needed when you are idle and breathe while working hard climbing. All of this performance weighs about as much as a standard t-shirt and compresses to take up little of the valuable room in your pack.
Available in styles and sizes for men and women.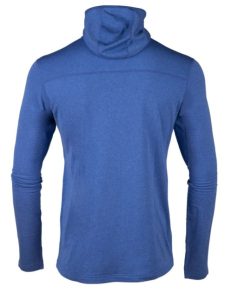 Ridge Merino Convict Canyon Merino Wool Hoodie
Best Internet Price: $149.95

Our Price: $119.96
You Save: $29.99
BLOCKER OUTDOORS KNOCKOUT SERIES 


Blocker Outdoors' all-new ScentBlocker Knockout Jacket and Pant is built to knock out human odor and keep you undetected – making it a must-have for warm-weather hunting.

KNOCKOUT JACKET 

S3® anti-microbial finish
   Prevents odors
Cold Fusion Carbon™


   Adsorbs odors 

Four pocket design


   For stashing gear (2 chest & 2 large waist)

Tailored waist hem


   For ideal coverage

Stretch fit cuff panel


   For a snug fit

Safety harness access port


   
The Knockout jacket is durable, comfortable, and designed with Blocker Outdoors' Cold Fusion Carbon™ technology to help absorb and control odors – the perfect lightweight solution for early season and warm-weather whitetail hunting.

KNOCKOUT PANTS
S3® anti-microbial finish


   Prevents odors

Cold Fusion Carbon™ 


   Adsorbs odors

Six pocket design


   For storing gear (2 waist, 2 cargo, 2 back hip)

Side waistband elastic


   For a secure fit

Zip fly


   For ease-of-use

Articulated knees


   For mobility
Whitetail hunting in early-season and warm weather demands gear that can stand up to Mother Nature. Blocker Outdoors' Scentblocker Knockout pants are perfectly designed to control odor while providing flexibility, comfort, and 6 pockets for storage – keeping you mobile, efficient, and undetected.
Blocker Outdoors Knockout Series
Best Internet Price: $259.98

Our Price

: $194.98
You Save

: $65
MUDDY 2.5 XTL Hercules System Ladder Tree Stand

The perfect tree stand for hunting in pairs, the spacious Muddy Stronghold 2.5 XTL Hercules System Ladder Tree Stand secures right to the tree, offering stability and slide prevention. This ladder tree stand combines 2 extra-wide seats with backrests for maximum comfort, a padded shooting rail (that flips up for bow season), and a wide foot platform with a footrest.
The Hercules Cross Grip Safety System secures your tree stand to the tree for confident climbs and prevents sliding

Oval tubing: strong, sturdy, and easy to grip

Comfortable Flex-tek seat with backrest

Quiet, padded shooting rail

2 interchangeable cup holders and 2 accessory hooks

Padded armrests for maximum comfort

Wide foot platform with footrest

Foot platform: 50 in. wide x 17 in. deep

Seat: 24 in. wide x 17 in. deep x 27 in. tall per seat

Tree stand weight: 106 lb.

Weight rating: 500 lb.
Muddle 2.5-Personal XTL Hercules System Ladder Tree Stand
Best Internet Price: $404.99 at TSC

Our Price

: $375.99
You Save: $29
NAP KillZone Series
For more than 30 years NAP mechanical broadheads have led the category with our bleeding-edge technology and time-proven technologies.  We offer a variety of hard-hitting mechanical broadheads in all sizes and configurations to fit your bowhunting style.
KILLZONE


The Killzone® is a 2 blade rear-deploying mechanical broadhead that packs a devastating 2″ cutting diameter. The field-point accurate Killzone® uses NAP's unique spring-clip design which ensures your blades won't open in flight or in your quiver. There are no o-rings or rubber bands to worry about. It comes in 3 per pack and is available in 100gr & 125gr.
KILLZONE SWINGFIRE 

The new Killzone® Swingfire. The first-ever broadhead that independently shifts four different and opposing cutting surfaces to reduce friction and drag. The blades on the Killzone Swingfire create less resistance which improves penetration and helps momentum.
Inspired by the Killzone® Slingblade and Spitfire® DoubleCross, the new Swingfire is designed to never open in flight and instantly deploy upon contact — ensuring that failure is not an option. Field-tested with pinpoint accuracy at 450 fps.

KILLZONE FOR CROSSBOW


The Killzone Crossbow broadhead provides a devastating 2″ cutting diameter and is designed to be shot from today's fastest and most powerful crossbows.

Specifications:

Weight

– 100 grain

Blades- 2 blades




Cutting diameter- 2″

Rear deployed
NAP KillZone Broadheads
Best Internet Price $39.99-$44.99 per broadhead

Our Price: $29.99-$33.74 per broadhead

You Save:  ~$10 per broadhead
KOOLA BUCK HIDE RIPPER 

Eliminate the time-consuming task of hand-skinning deer with the Koola Buck Hide Ripper. The Hide Ripper is the best way to skin a deer – setup is quick and all you need is a vehicle equipped with a trailer-hitch mount. Simply skin the back legs or neck of the deer, hook on the ripper and lift the animal on one side while the hide is ripped off on the other. It's that easy!
Quickest, cleanest and easiest way to skin your game.

Skin the back legs and insert the gambrel. (Included)

Lift the animal up and use the powerful winch to Rip the Hide off.

Why hand skin when you can rip it with the Hide Ripper!

Quickly and easily assembled.

Perfect for transportation and use in remote locations.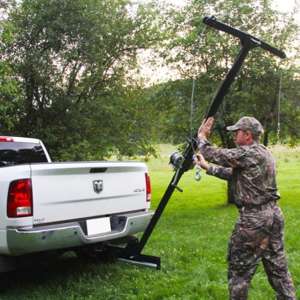 Koola Buck Hide Ripper
Best Internet Price $389.99

Our Price: $292.49
You Save: $97.50

TOP FOCAL ULTRA KIT

Improve your focus with the Top Focal SSP Eyewear, comfortably designed with upper & bottom bifocals for shooters that are struggling to focus on their sights. Plus, the Ultra Kit offers a lot of options to ensure you get the most out of your SSP eyewear. Get interchangeable lenses for Total Clarity Dynamic Light Management and a full set of upper magnification bifocals and bottom bifocals in three colors, 12 lenses total.
Plus, you get the SSP Zipper Range Bag with belt loops and quick release swivel clasp. The no scratch lens compartments offer peace of mind when you need to quickly stow away your glasses. The microfiber cleaning cloth is a great addition to this kit and will help keep your target clear in front of you.
Specifications detail: 100% UVA/UVB protection, shatterproof lens, NVR/fog™ technology + venting, durable TR-90 Nylon matte black frame, magnifier at the top is 3/8 inch from the top of the frame down by 1-1/4 inch wide, frames are 1-3/4″ tall and 5-3/4″ wide at the front, weight is 1 oz.


 SSP Eyewear Top Focal Ultra Kit
Best Internet Price: $149.99

Our Price: $112.50
You Save: $37.49
That concludes this months list of great deals. You can get the most value for these products and thousands of others by signing up for premium. At almost 60 premium brands with site-wide discounts, we make it easy for anyone who enjoys the outdoors to find a great deal on something they need. Start saving today!