At the end of September 2021, my hunting partner and I embarked on an epic trip into Atikaki Provincial Park for a 10-day canoe/backpack moose hunting adventure. With more energy than brains, we headed out and experienced the hardest, yet one of the most fun hunts, I've ever been on.
As all questionable plans do, this one started in the cold heart of winter with a daydream about moose hunting. Bored and somewhat paralyzed by minus 40-degree weather, I sent my hunting partner a simple text that read, "MOOSE HUNT!!!!?"
It was answered within seconds, with an even simpler, "Obviously!" And so, the moose trip was born.
We then needed to decide on what kind of trip we wanted to do. After throwing around the idea of booking a trip through one of the amazing outfitters in that part of the Province, and speaking with the fine folks at Wallace Lake Lodge, we decided the call of the backcountry and a canoe adventure was a bit too strong for us. That's when we decided to do a backcountry DIY canoe-in moose trip.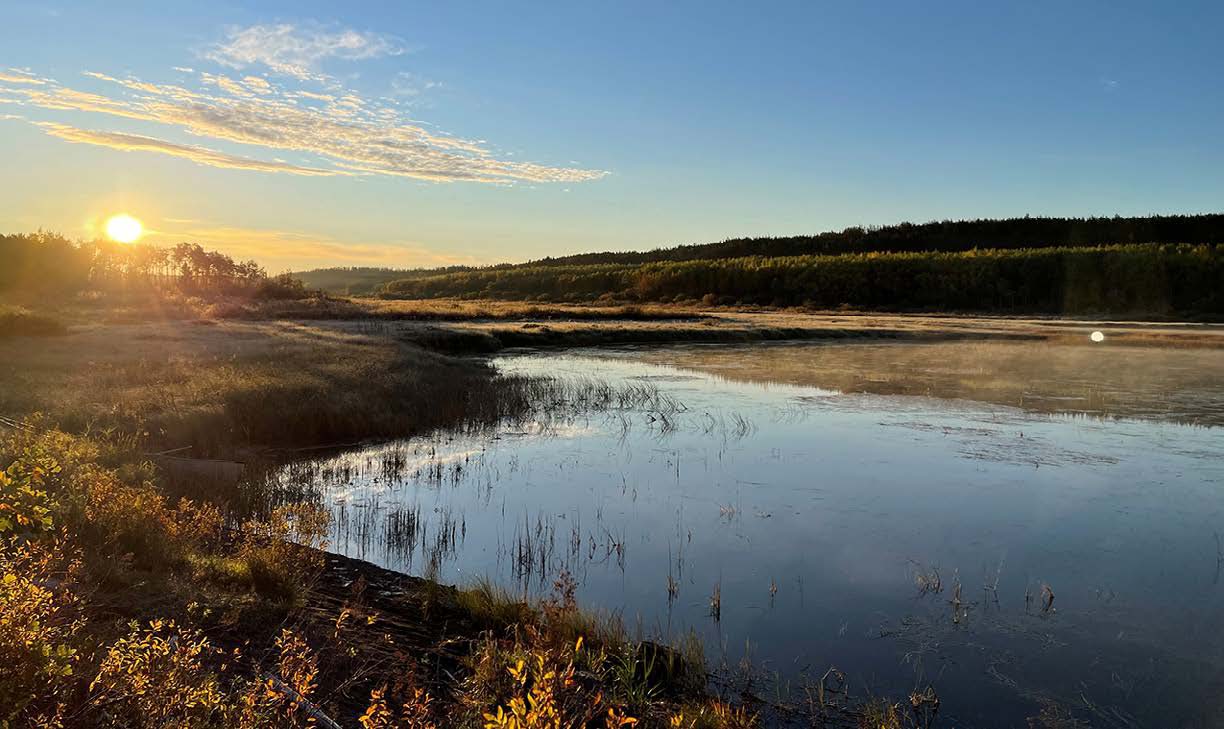 Study and Planning
With the trip outline in mind, I began to study moose hunting seriously. The first place I turned to was a book to which my old friend and occasional sounding board (in my Manitoba Wildlife Federation days) had contributed a section. The piece by "Dr. Moose," Vince Crichton, was simply titled, "Hunting." Sadly Dr. Crichton died in December 2020, so I couldn't ask the man himself. His contribution to the moose book is a huge wealth of knowledge to anyone interested in the hunting or conservation of moose in North America.
Using the information gleaned from that book, we settled on the last week of September, historically the peak of rut in that part of the world. (According to Dr. Chrichton, September 29 is, on average, the best day to hunt. We decided to leave on September 24 and hunt through October 3, which would give us a fair chance.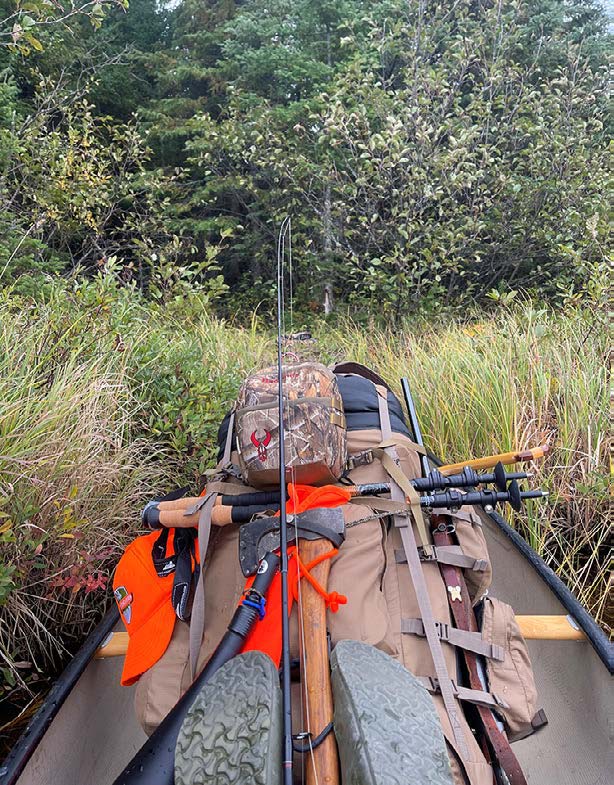 Choosing the Tools
My next task was to choose the right tool to put down a critter of that size. My initial thought was to bring my trusty "Nora," a custom Black Widow PL-X Longbow that has been a steady hunting companion for the past few seasons. I quickly chickened out, thinking that I had no idea if I would even be able to get close enough to get a decent shot. Being a first-time moose hunter, I thought a rifle would be a better choice.
That's how my trusty 1962 Savage 99 lever gun in .308 joined me on the trip. Having hunted countless critters with the '99, I knew she would throw 180-grain Federal Power Shoks downrange with consistent results, and that was good enough for me at the ranges (under 200 yards) that I tend to hunt. I decided to bring along my Chiappa Little Badger (AKA The Lil' Bugger) single-shot folding .22 in case we came across a grouse or rabbit for supper.
Getting There
Next came deciding on a method to transport us to where we wanted to hunt. The vehicle we chose was a Clipper Ranger 17. While not the lightest canoe ever designed (74 pounds), it would be light enough to carry and stable enough to get us across one lake, half of another lake, and ultimately into the remote wilderness north of Wallace and Siderock Lakes. We also knew the Ranger was able to hold two grown men and gear for 10 days.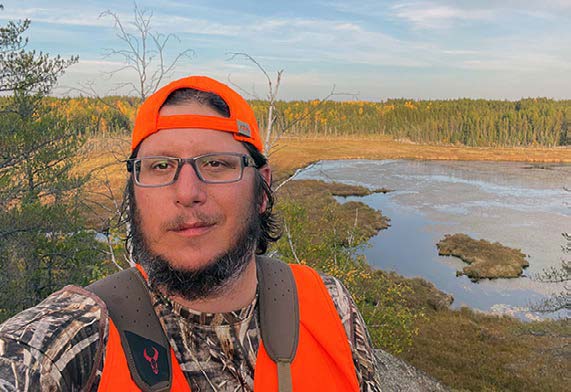 Loading to Go
The adventure began in earnest on September 24. We loaded our backpacks, our fishing poles, the canoe, and about two liters of coffee. We headed east, then north for approximately 3.5 hours to Wallace Lake. Reaching the boat launch, we loaded the canoe and set out to paddle across Wallace to the Wanipigow River. We'd follow that further east to Siderock Lake, scouting our way down the river as we went.
After heaving the canoe over a beaver dam and paddling through a light misty shower, we began to notice a lot of blaze orange—way more than we expected. It seemed that at every bend of the river, we'd spot a group of hunters on the shoreline, all waiting patiently for a bull moose to appear through the fog. After a couple of hours of paddling, we were damp, cold, and a little despondent at the sheer number of hunters who had the same idea we did. So, we carried on, hoping that Siderock would be better.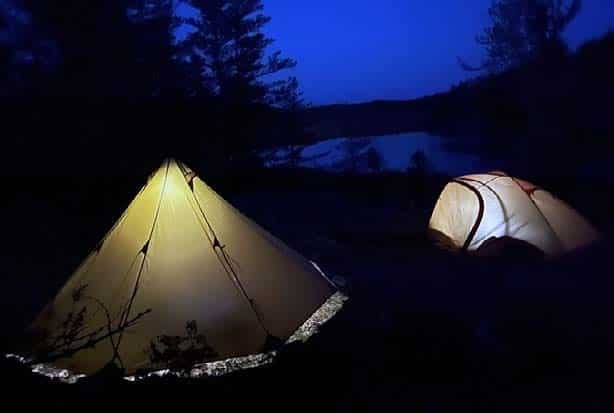 Five on Siderock
We spent five days crisscrossing Siderock, hiking through dried-up muskeg and glassing from granite ridges.
So, all this time, while we consistently found old moose sign, we found nothing fresh. More frustrating than that, the weather had changed from a frosty morning on September 25 to plus 30˚ C (86˚ F) days, with warm evenings.
The other thing that was beginning to wear on us was the sheer amount of garbage left behind by other hunters. From cigarette butts to empty water bottles (even a makeshift toilet one particularly nasty person built out of a plastic milk crate and left on a beautiful rock beach on an island), it was clear that we needed to get away from the crowds and really go deep.
Heading Further North
We eventually settled on doing a large portage north to another lake but figured we'd break up the trek so we could hunt our way up to the lake. After an hour or so of walking, we came across a granite ridge and scrambled up it to see where it would go. It was nice to be out of the hot sun and in the forest. Soon, we found ourselves on the far side of the ridge overlooking a narrow but dense bog and a series of beaver dams. Of course, we couldn't see around the corner where the bog dog-legged around another ridge, but we figured we'd try calling after finding a relatively fresh hoof print in the muck.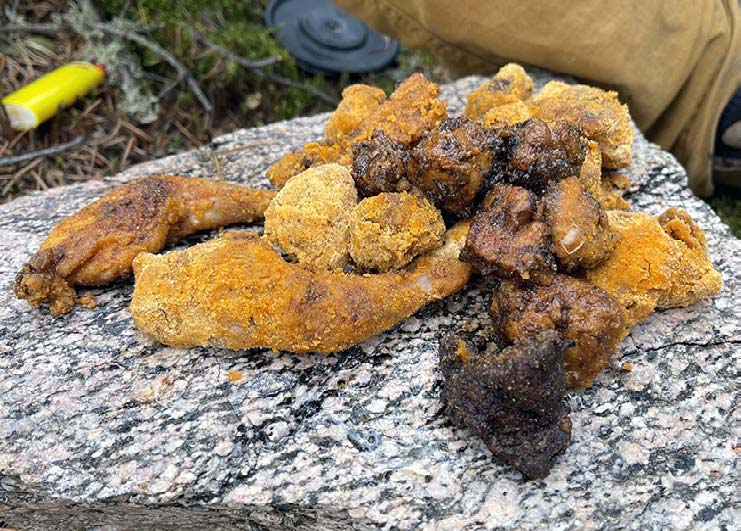 Grunting Back
I let out a cow call. Within seconds, the low but unmistakable sound of a bull moose grunted back. After five days of disappointment, the sound raised the hairs on the back of my neck.
I called again and waited…and heard a second grunt, fainter, and farther away. My bull was going the wrong way! My hunting partner, Mathieu, dropped everything but his rifle and snuck off in the direction of the grunt, hoping to head off the bull.
I called again, I grunted, and I raked. It was all to no avail. After an hour or so, Mathieu came back caked in mud, soaking wet, and dejected, with no luck finding the bull. Knowing what I know now, we should have set up camp a little way off and hunted that spot in the evening and the next morning. Instead, we figured we'd blown it, and carried on.
The rest of the way to the lake was mostly uneventful, except for the portage itself, which was a bit of a nightmare. We quickly got bored of scouting, then walking back to our gear, hauling our 90-pound frame bags another kilometer, then going back for the canoe. Before long, Mathieu channeled his inner Hulk and threw the canoe over his bag and shoulders, then humped it in the rest of the way. I carried the paddles and his rifle, which was a lighter, but ridiculously awkward load.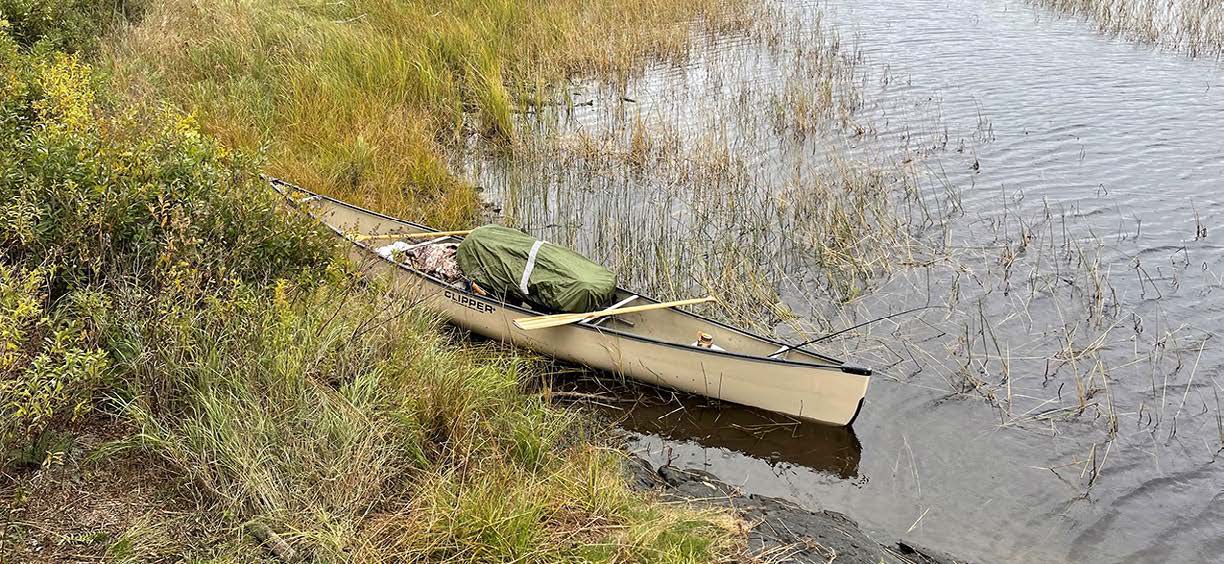 A Bog Dash
After a terrifying dash over about 150 meters of floating bog (that I seriously didn't believe we were going to survive), we were underway again and scouting our new lake. It was perfect. Plenty of vegetation for moose, high ridges to glass from, and the perfect campsite. It was still hotter than Death Valley, but the lake had something else going for it—no other hunters or hunting pressure.
We spent the rest of the trip exploring the shores, forests, and swamps around the lake. Finding tons of fresh sign, we even managed to put the Lil' Bugger to good use one hot afternoon. We had decided to take a hike up to the next lake in the chain, hammering a couple of grouse (Spruce Grouse and Ruffed Grouse) and a rabbit for dinner that night.
The Last Day
On the final evening of our hunt, I was posted on a flat point overlooking the northernmost bay of the little lake and glassing a spot where a small stream entered the lake. There was plenty of cover and more floating bog. There had been fresh sign over that way, and with time running out, I was within shooting distance if anything appeared.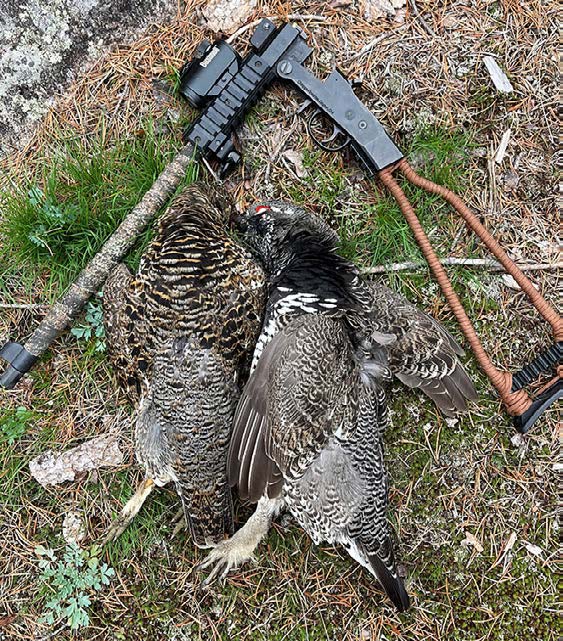 With only 10 minutes of legal shooting light left, I watched breathlessly as a moose stood up at 167 yards. But, there was a problem. I could see the body, but I couldn't tell if it was a bull or a cow, because its head was obscured by trees. In this particular hunting area, a hunter is only allowed to harvest a bull moose, so I had to be absolutely positive before touching off a round.
I tried calling and kept glassing, hoping that the moose would move or show its head. It felt like hours. After a few minutes, the moose appeared to either lie back down or it just moved to where the water was deeper on the other side of the floating bog. Then, it simply vanished. A few minutes after that, it was time to go back to camp and get some sleep before the "death march" and marathon paddle back to the truck.
Lessons Learned
As disappointing as it was to leave the hunt empty-handed, I learned some valuable lessons about moose hunting. Most notably, if you get a response to your call, stay on that moose for at least 24 hours. The other important lesson I learned was that moose don't move when it's that hot out. We would have been smart to postpone our trip by a couple of weeks to wait for cooler weather, even if it meant missing peak rut. Finally, I learned that while moose hunting is hard work, I am absolutely addicted to it. I can't wait to try again next year!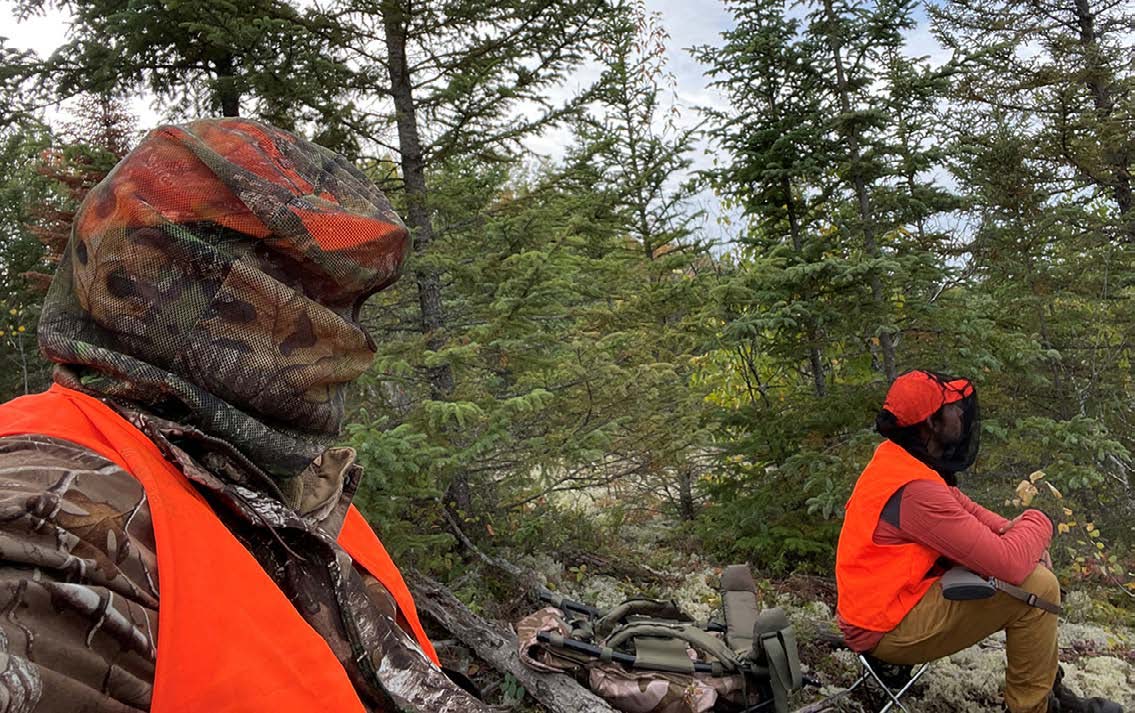 ADDITIONAL GEAR LINKS:
Mountain House Foods – https:// mountainhouse.com/collections/entrees
Optimus Polaris Stove – https://www. katadyngroup.com/us/en/8019229-optimus- polaris-optifuel~p6903
Back Road mapboook – https://www. backroadmapbooks.com/brmb-products/ backroad-mapbooks/prairies-backroad-maps/ manitoba-backroad-mapbook/manitoba- backcountry-maps.html
____
Here's another article you might enjoy – Newfoundland: The Place for Moose, Bear, and Adventure!