My freezer is full. All three of my freezers are full. This week, a good buddy wants to gift me a dozen freshly frozen spring geese.
Next week, bear season opens. What's a guy to do? Let me explain.
Start Canning!
My firm recommendation is to plan ahead and buy yourself a top-end All American Canner Pressure Cooker (in Canada here) and a few dozen Mason jars in sizes that suit your lifestyle.
This will cost a few hundred dollars, depending on the size of the canner. I purchased the 15-quart size and have never looked back. Here's a pro tip: this canner works as a great stockpot, and you could pressure-cook a turkey in it if you choose to. The pressure canner is a versatile piece of equipment with which your great-grandmother was probably well-acquainted. But with our fancy refrigerators and efficient supply chain these days, we now have much less immediate need to can food products—unless you (like me) hunt and fish like a hound (thus creating a surplus of delicious proteins). With only so much freezer space, canning is an economical option. With canned proteins in our pantry, there are more culinary options.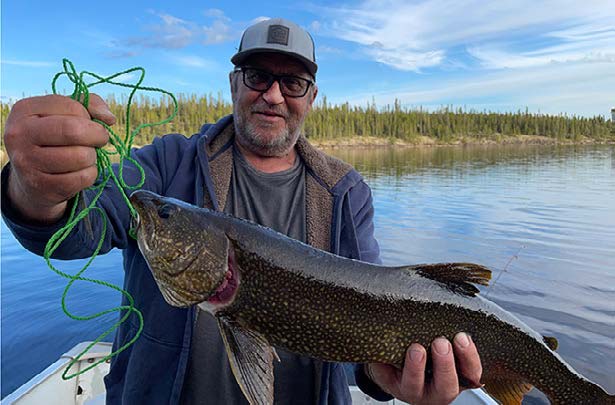 Last year, I canned nearly all the front half of my black bear and a good number of lake trout. I have the good fortune to work split shifts as a cook at Tate Island Lodge on Reindeer Lake in Northern Saskatchewan. The lake is home to fine lake trout, Northern Pike and grayling fishing in addition to having access to some fine chunky black bears.
I cook breakfast and supper, and in between meals, I fish––hard. Last year the lodge owner and good friend Randy Kozak made the bear hunt part of my compensation. (That turned out perfectly for both of us, but that's another story.) Last year, the fish was my bonus. I still have some in the pantry.
My grandmother told me a story when she gave me her de-commissioned canner about an acquaintance who had one explode in her kitchen. It pressured up and went off like a bomb. Luckily, the woman was out of the room at the time, but the kitchen was seriously damaged. This was Grandma's explanation as to why she had removed the canner's ability to pressure up. It was a warning, too. I still use grandma's canner as a stockpot. My heart is warmed thinking of my grandmother every time I spark up the gas burner under it. But these new canners are designed to be safely operated. Follow the directions to the letter and you will be fine.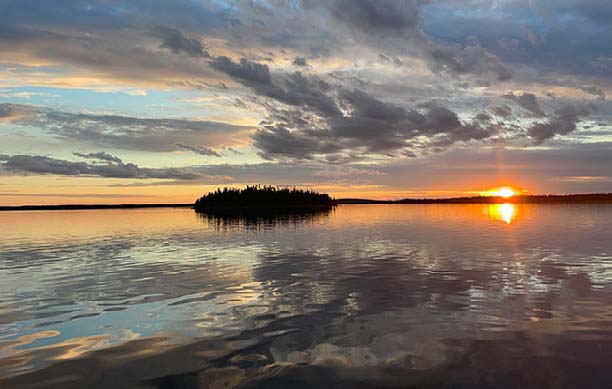 Tips To Canning Lake Trout (Or Any Other Fish)
Equipment
The All-American Pressure Canner of your choice. I mentioned these are not cheap, but your grandkids will be using them if you care for them properly.
Mason jars with screw-top lids and new flat-round lids. (Do not re-use lids for canning. Throw them away when you empty and wash the sealer jar, since they do not seal properly once used. I keep a stock of fresh lids for each size sealer on my shelves.) I used 500 ml sealers for this project, which gives you nearly 2 cups of trout to work with when you open the sealers.

Pressure canners are safe if you follow the rules and directions to the letter.

Gram scale that tops out a 5 or 11 pounds
Gram scale that tops out at 200 grams and reads to the 1/10th of a gram
Ingredients
Fresh fish to can
Kosher salt (optional)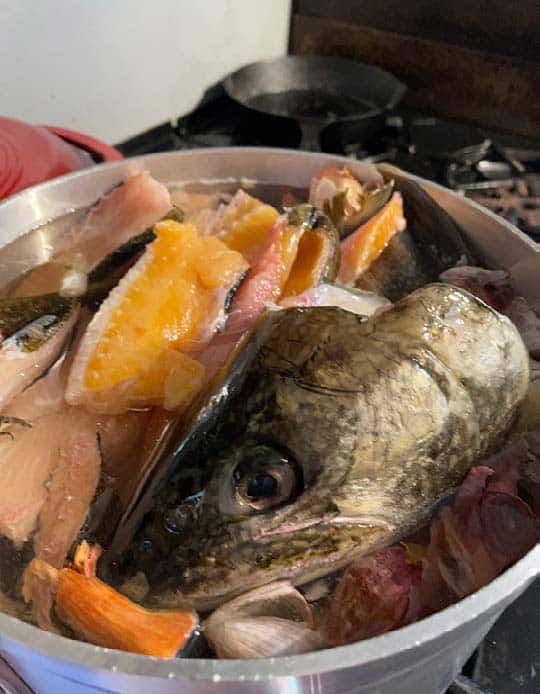 Process
Wash the Mason jars and lids in the dishwasher on the sanitize Remove the sealers from the dishwasher when the cycle is complete and arrange them top-down on a clean dish towel. Lay the lids on a fresh towel also.
Prepare your I fillet the fish, leaving the skin on the trout. (If canning pike, remove the skin. (I kept the heads, spines and fins to make trout stock and eventually chowder for Lodge guests.)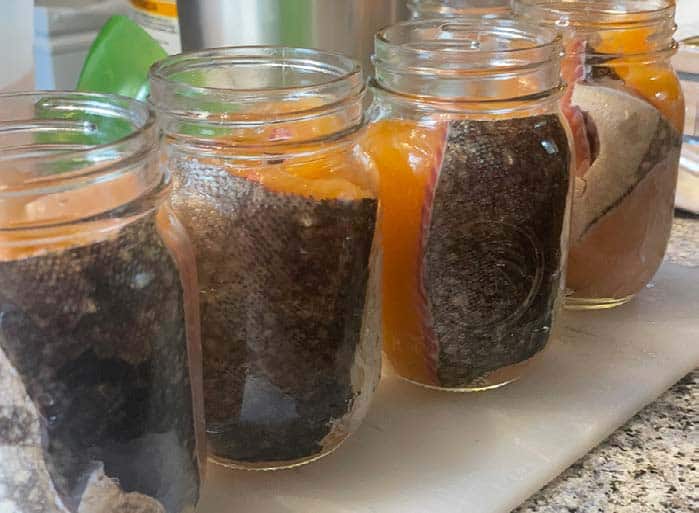 Chunk the trout into pieces to fit in the Mason
If you are adding salt, place the sealer on the scale and zero it out before adding fish.
Fill the sealers with fish, leaving one inch of headspace.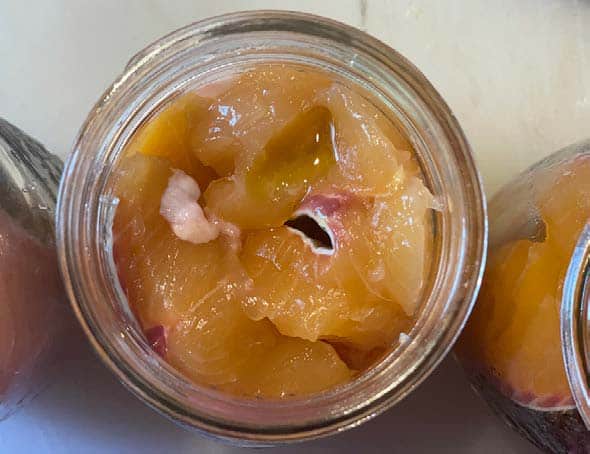 Note the net weight of the fish in Multiply this weight by 0.015 to calculate 1.5% of salt to be added. Make a note of how much salt you added so you can adjust the next batch if needed. There is no need to add salt at this point, but my family has landed on 1.5% being optimal. Somewhere between 1% and 2% is likely to be where you will land.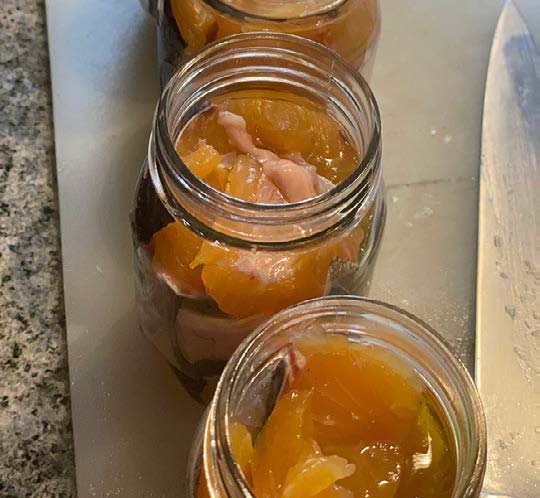 Cover the sealers with the flat lid and finger tighten the rings until they just make contact and you feel a bit of resistance when turning the ring.
Arrange the sealers in the canner, add the prescribed amount of water, and fire up the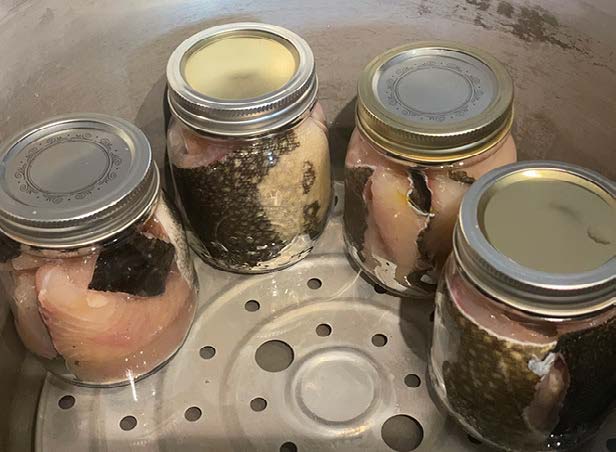 Just follow the canner instructions for closing the lid, heating, and how to use the pressure gauge and release There is a set of step-by-step instructions that come with the canner. Follow them. There are cook time guidelines there too, and the process of cooling and releasing pressure from the canner before carefully removing the lid. Once the sealers are cool, tighten the rings on the lid and store the sealers in a cool and preferably dark storage area until you are ready to use the product.
CANNED TROUT DIP
Equipment
Mixing bowl (you could use the Kitchen Aide with the paddle attachment if you like.)
Strainer (to drain the liquid from the fish)
Spatula or wooden spoon for mixing
Service crock(s)
Ingredients
2 cups of canned lake trout, drained
1 cup of soft cream cheese
1 teaspoon hot sauce (more if you like it spicy)
1 teaspoon of Worcestershire sauce
1 Tablespoon of lemon juice
1 Tablespoon of parsley, finely chopped
1 Tablespoon of thyme, finely chopped
1 Tablespoon of rosemary, finely chopped
1 Tablespoon of chives, finely chopped
1 teaspoon of smoked salt (See note below to add salt by weight)
Coarse black pepper to taste
1 teaspoon finely grated lemon rind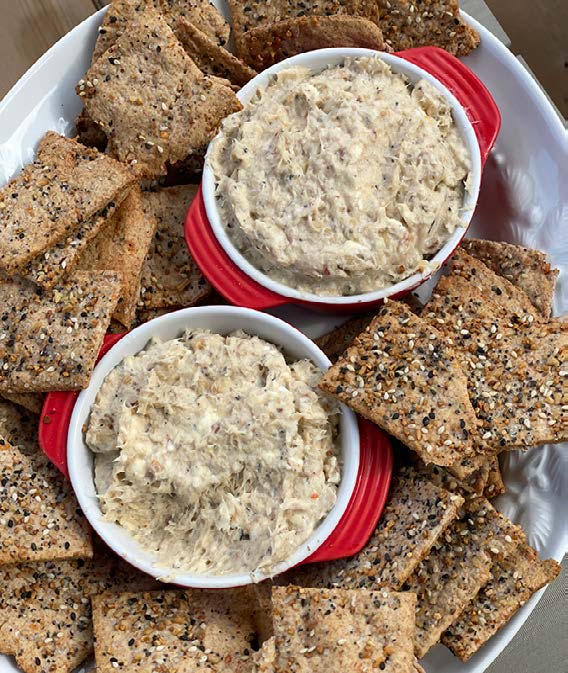 Process
Drain the canned trout.
Assemble ingredients in a large mixing bowl.
Add the trout.
Add cream cheese, smoked salt, and black pepper (I would suggest starting by adding 1% smoked salt by weighing the combined weight of the fish and cream cheese.)
Beat with the Kitchen Aide paddle, or by hand with a wooden spoon.
Taste, and adjust salt, pepper, and hot sauce to suit your palette.
Scoop into crockery for serving and add some of your favorite crackers (Those pictured are homemade sourdough crackers with seeded tops.)
I made this canned trout dip platter for happy hour at the fishing lodge. (It all disappeared quickly with what appeared to be happy munching while guests enthusiastically recounted the day's fishing, comparing results and complementing the guides for the choice of fishing holes and the fact that they threw down a fantastic shore lunch for the guests.)
I think canning has a bad rap. This may come from our current fervent focus on eating "fresh." The fish from this process is delicious. (As is the bear that I canned––it's perfect in burritos or chili.)
Enjoy the process of expanding your culinary repertoire!
____
For another fish dip recipe, check out this article: Smoked Fish Dip